Unified Industries Air Balancer
อุปกรณ์ช่วยยก แบรนด์  Unified Industries
A proven ergonomic lifting and positioning device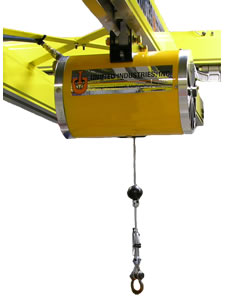 • Capacities up to 485 lbs. single reeve – 1940 lbs. tandem reeved.
• Safety overload limit and check valve in case of loss of air supply.
• Energy Efficient; only a fraction of a CFM per cycle required when compared to a hoist.
• Robust precision mechanical design ensures trouble free extended service life.
• Uses non-lubricated air assures clean environment.
• Ideal for ergonomic handling applications and suspension of tools, weld guns & fixtures.
Control Styles
UBB = Basic Balancer with no controls
UAB = Balancer with up/down controls
UZB = Balancer with Zero G