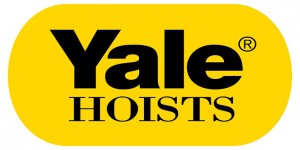 Yalelift 360 ATEX : Hand Chain Hoists with Explosion Proof Certified
รอกโซ่มือสาวแบบกันระเบิด YALE, มาตรฐาน ATEX
สุดยอดนวัตกรรมรอกโซ่มือสาวที่มีคุณสมบัติเด่นเฉพาะ คือ โซ่หมุนได้รอบไม่ติดขัด ตะขอหมุนทำมุมได้รอบ 360 องศา พร้อมด้วยสลักนิรภัยที่ได้มาตรฐาน
Yalelift 360 ATEX Hoist for Harsh Environments
Built for use in explosive atmospheres and features unique 360-degree rotating hand chain cover
Equipped for Harsh Environments
The Yalelift 360 ATEX is built for hazardous environments and is designed to meet ATEX requirements. Specifically, this unit meets EU Directives 2014/34/EU and 99/92/EC and has the classification Ex II 2 GD c IIC T4. The hoist also features a spark-resistant, copper-coated suspension and load hooks; stainless steel load and hand chain; and bronze trolley wheels.
The Yalelift 360 is engineered to resist corrosion with an enclosed stamped-steel housing and a partially enclosed chain guide and gear box. MKS micro-corrosion protection system consists of an anti-corrosion basecoat layer paired with a chemical-resistant topcoat for maximum protection in harsh environments.
Providing Maximum Versatility
Unique in design and performance, the Yalelift 360 ATEX hoist features a patented hand chain cover that rotates a full 360 degrees to allow loads to be lifted, pulled or positioned from virtually any angle – even when the operator is positioned above the load.
The Yalelift 360 ATEX hoist has a variety of other features, including:
• Weston-style braking system that provides positive load control and reliable performance
• Extreme low headroom
• Heat-treated steel internal gears and pinions for high strength and long life
• Precision four-pocket liftwheel and chain guide for better chain fit and alignment
• Drop-forged load and suspension hooks made of high-tensile steel that yield under overload instead of breaking
Yalelift 360 is being marketed in the Americas by CM under the name Hurricane 360.
Yalelif 360 เป็นผลิตภัณฑ์ตัวเดียวกันกับ Hurricane 360 ซึ่งเป็นชื่อทางการตลาดที่ใช้ในอเมริกา